If you see H/W error on the display of your device or there is something wrong with your favorite settings: no doubt, your JVC car stereo has to be reset.
And only a rare person reads a manual because it is hard to read and understand. In this article, we will show you how to reset the stereo. Be sure, it's easy, and the process quite is brief.
How to reset JVC car stereo
JVC offers two different automobile stereo models: single DIN and double DIN. Here we'll describe how to correctly reset any of them.
How to reset a single-DIN JVC car radio
The first approach: you must remove the front panel that houses the stereo's front control panel in order to reset your JVC car Bluetooth device or a standard JVC car stereo.
Step 1: remove the front panel
By applying pressure to the top and peeling it off, you may accomplish this.

Step 2: find the reset button in step two
After detaching the faceplate, you'll find the reset button in the upper corner of the device.
Use something like a pin or a needle to push it down.
Step 3: hold the button down
Press the reset button for five or six seconds.
Reinstall the faceplate on the stereo after releasing it.
Step 4: check whether it works or not
Turn the JVC vehicle radio on after resetting it to determine whether the problem has been resolved. You should try something else if it hasn't.
Check that the JVC stereo is switched on before using this procedure. Otherwise, this won't work.
The second approach: using the Power Button to reset a JVC car stereo (the single-DIN)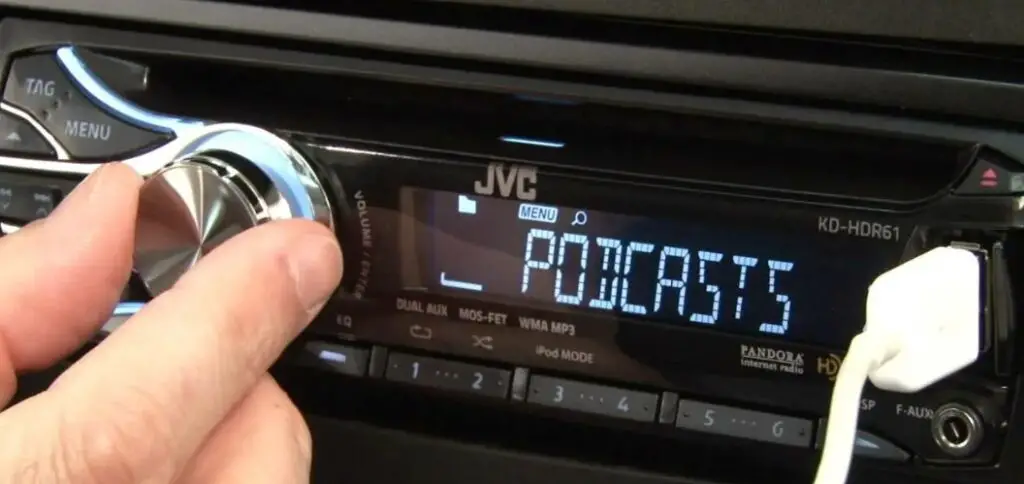 Using the power button is the second approach, we'll demonstrate how to reset a JVC car audio
This is perhaps the most popular and straightforward approach to resetting a JVC car audio or radio.
All you have to do is adhere to these easy instructions:
Step 1: press two buttons at once
First, identify the "ON" switch and "Select" button on your JVC audio equipment. Now simultaneously press the two buttons.
Step 2: keep the buttons pressed
Hold the buttons down for around five to seven seconds after pressing them.
Step 3: depress the buttons
After 5-7 seconds, release the buttons. It has been reset to the stereo! However, please beware of you risk losing all of your presets.
How to reset JVC double-DIN car stereo
This technique works with double-DIN radios like the JVC KW-X840BTS that have a Reset hole on the front plate.
Determine the location of the reset hole in step one
The reset hole on the faceplate of your JVC stereo must first be located. Once you find it, you'll need something small and pointy, like a toothpick.
Step two: insert the system reset button
Find the reset hole, place your sharp item inside of it, and press it down. Release it after roughly five seconds of holding it down. During the procedure, make sure: no USB device should be plugged in. Otherwise, all data contained in it will be lost.
FAQ
How do I get my JVC radio out of Protect Mode?
One of the few techniques for deleting or deactivating the protective mode on your JVC stereo is to reset the device.
When the mode suddenly activates, many car owners are put in an awkward situation. You only need to restore the device to its factory settings to solve this.
How do you fix a JVC car stereo Bluetooth?
Most often, just like with many other problems associated with a failure in settings, you just need to reset the device to fix it. Although it may be a problem with the electrical circuit. In this case, you should contact the seller for warranty service.
How do I factory reset my JVC car radio?
During the reboot, custom settings are automatically reset to factory defaults.
What should I do if a H/W error occurs?
JVC stereo H/W Error warnings might mean that the head unit is defective.
The error code is typically brought on by a hardware flaw or another problem with reading discs and memory cards. Even when the system seems to be operating smoothly, errors might nevertheless happen sometimes. The only way to solve this issue is to reset the device to its factory default settings.
What should I do if the head unit is slow or lags?
The system may be slowed down by having too many choices and setups if your head unit is sluggish or laggy.
Certain functionality, such as changing music on USB drives or SD cards, may suffer if the storage area is overloaded with data. If the device is reset to factory defaults, all unnecessary data may be removed.
How do you reset a JVC home receiver? Conclusion
In fact, restoring your JVC Radio is a relatively simple task. You should also ensure you have an easy solution to this problem. Occasionally, a reset can affect system dynamics. This can be found by looking in the manual for any potential issue your vehicle will have.
You may find this one in an online store. Many manufacturers have free PDFs to help them achieve the purpose. Sometimes this might be with the Bluetooth units and could have been resolved with a reset button. We'll wait a minute. Please enjoy this system.
Read also: How to take apart Milwaukee Jobsite radio?