The best single DIN car stereo should reflect the latest advances in digital audio technology. For example, compatibility with smartphones and the most common Internet radio programs. Smartphones are currently the only way to listen to music in cars, so the best single DIN head unit that supports connected devices and comes with special features as standard is a must.
This includes:
USB port for charging and connecting multimedia devices or smartphones.
Bluetooth technology for music streaming and hands-free calling.
Integrated functionality of music applications such as Pandora and Spotify.
But your single DIN head unit doesn't just need to play high-quality sound, it really needs to incorporate the latest trends in digital technology to make it easier for you to listen to music files, navigate and make wireless phone calls. Listed below, you'll find our best car stereos that embrace the rapid changes in audio and digital technology.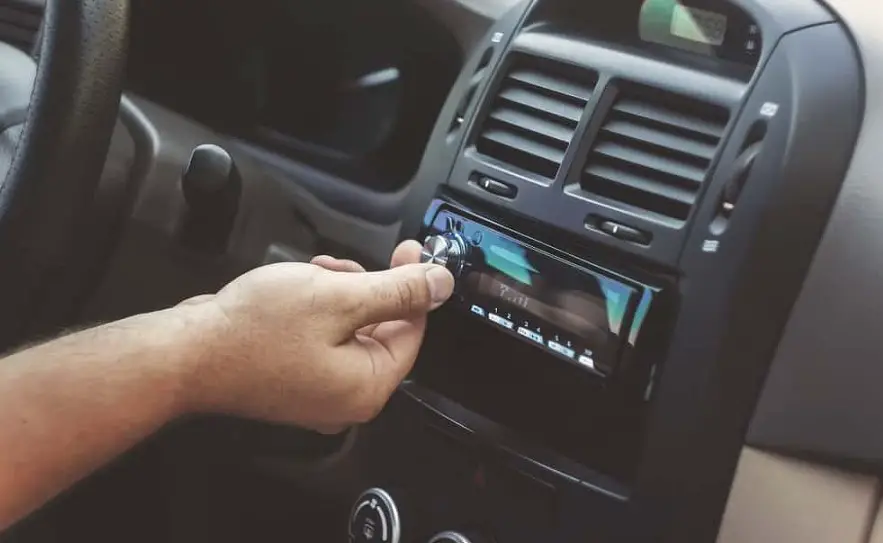 Types of main units DIN unit
Plain and simple, they have a USB port, so you can plug in MP3 players.
Bluetooth car stereo multimedia systems
These devices are equipped with Bluetooth technology that allows you to make hands-free calls and listen to music with your smartphone. You can also listen to radio stations and save your favorite channels for tuning in with one touch.
Touch screen and DVD player
The touch screen is a step up from the regular dial and has a DVD player compatible with a wide range of audio and video files. The high resolution of the screen makes it possible to watch movies and TV for children and passengers who may be distracted during long journeys.
| | | |
| --- | --- | --- |
| Image | Name product | Features |
|   | Kenwood KDC-BT778HD | Single-DIN chassis CD/ Multimedia receiver Front, Rear, Sub outputs, 4 volt 22 watts x 4 RMS Front USB, Aux input Bluetooth 4.3, includes a microphone for hands-free answering and calling HD radio, Pandora, Spotify, and SiriusXM-ready Detachable faceplate |
|   | JVC KD-X270BT  | Single DIN digital media receiver 22 w x 4 RMS, 50 w peak 2-channel RCA outputs (2.5v) High & Low pass filters Time Alignment Built-in Bluetooth 13 band EQ K2 technology restores compressed music files Front USB port |
|   | Alpine UTE-73BT | Single DIN digital media receiver 18 watts RMS, 50 watts max. 6-channel RCA preamp outputs, 2 volts Variable color option Built-in Bluetooth Compatible with Android and iOS 3 band equalizer USB port and Aux-In on the front Compatible with music streaming services A steering wheel remote control adapter is required |
|   | KENWOOD KMM-BT328U | Car radio receiver with LCD screen Integrated iPhone control Detachable display 1.5A USB port for fast charging of devices Powerful 50W amplifier per channel Front AUX input MP3, WMA, WAV, ACC, and FLAC playback, High-resolution WAV music files |
|   | Pioneer AVH-3500NEX | 6.94 -inch folding addiction index Language control support Adaptation with iPhone/Android Bluetooth Support Excellent quality sound Support for Sirius Home Full sound settings |
Top 5 Single DIN head units at a glance
1. Kenwood KDC-BT778HD
The Kenwood KDC-BT778HD is one of the best single DIN CD receivers on the market. It combines the technology you really need with a powerful single-DIN head unit that offers optimal upgrade options. It's also a good-looking car stereo, with customization features that help make installation seamless.
Kenwood has built this CD receiver with built-in Bluetooth that you can use for hands-free calls and wireless music streaming searches. You can wirelessly connect to up to five phones at the same time to occasionally hang up on the go. With the Kenwood app, you can turn your smartphone into a wireless remote control. Drivers will love the built-in virtual assistants and extensive iOS and Android compatibility.
This Kenwood single DIN car stereo system is ready to go. It has a factory-made power output of 22 watts RMS per channel and includes three sets of 4-volt pre-power output in the front, rear, and subwoofer channels. USB and AUX inputs on the front panel make it easy to connect MP3 players.
The KDC-BT778HD features a 13-band digital equalizer that lets you tune the system for your vehicle.
Color-changing LED lighting also allows the driver to match the car stereo system to the dashboard lighting. A front-loading CD, HD Radio tuner, Pandora and Spotify compatibility, and SiriusXM-enabled options open up a variety of audio files or ways to play and stream music in your car.
2. JVC KD-X270BT
The JVC KD-X270BT offers easy connectivity and simple Bluetooth control for wireless remote streaming and hands-free calling for Android users. This head unit is not compatible with iOS devices. It has a clean look and a simple layout that allows you to play your favorite music from the source of your choice.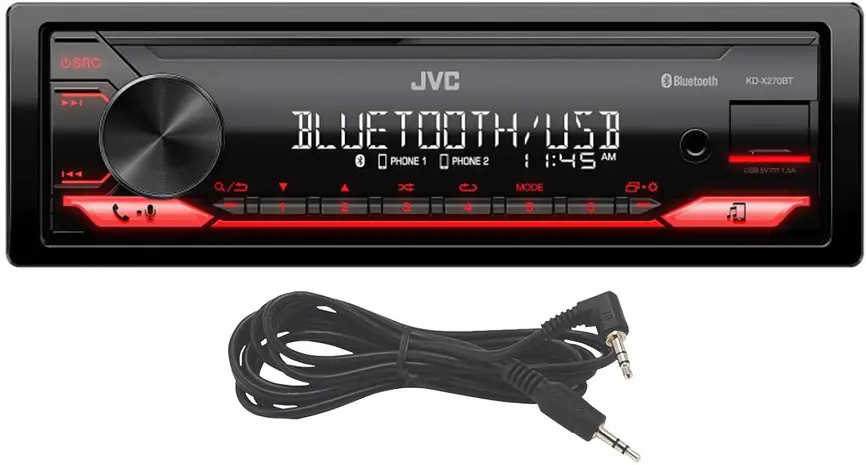 A useful feature is the front USB port, which allows users to connect a USB flash drive for quick and easy playback of stored music files. The USB port also charges smartphones and can be used to play music stored on a compatible phone. Built-in Bluetooth offers up to two simultaneous connections and can connect up to five devices with DJ streaming functionality.
JVC has guaranteed that the streaming capabilities of this single DIN head unit will give you the quality and control you want.
The K2's built-in technology allows the device to recover audio data lost during music compression, allowing you to hear the nuances of your favorite songs almost as well as playing a CD. A 13-band equalizer and several unique sound-shaping features give you complete control over your music.
The main unit provides 22 watts of RMS power, with a maximum power output of 50 watts. A pair of 2.5V outputs allows you to add an amplifier or a subwoofer to your system. It's even compatible with steering wheel controls for hassle-free installation.
3. Alpine UTE-73BT
Add high-quality Alpine audio to your car stereo with the UTE-73BT advanced Bluetooth digital media receiver. This premium receiver offers excellent sound quality thanks to its built-in amplifier and advanced Bluetooth technology.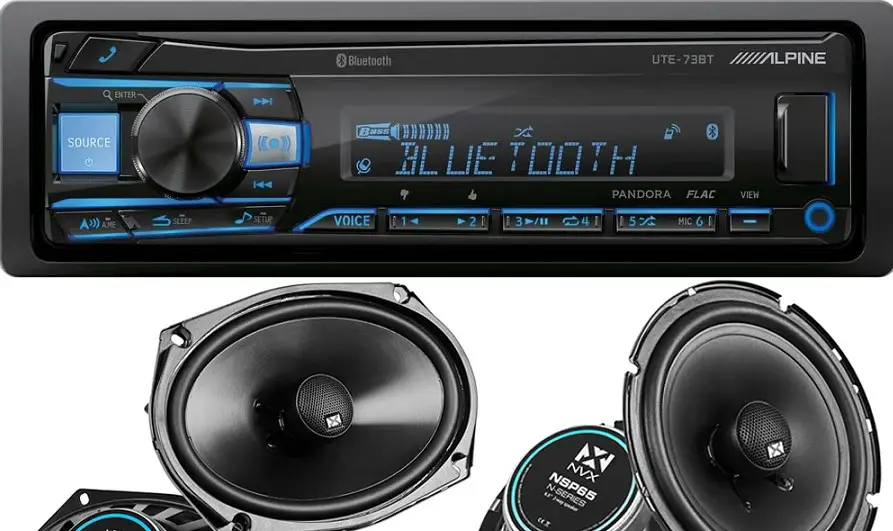 Alpine UTE-73BT is the best car stereo system. It looks good, it's easy to use, and it's cheap! It also has a USB port and an AUX input, so you can easily connect your favorite devices.
The UTE 73BT is compatible with SiriusXM, so you can enjoy your favorite channels on the go. With its stylish design and intuitive controls, the Alpine UTE 73BT is the best single-DIN Bluetooth headset for any music files lover.
4. KENWOOD KMM-BT328U
If you're looking for the best single-DIN Bluetooth headset, check out the KMM BT328 Digital multimedia car stereo.

Kenwood surpassed itself by introducing KMM BT328 media digital car stereo! This incredible technology delivers powerful and dynamic sound that's perfect for any audiophile.
With Bluetooth capability, you can easily connect to your smartphone or other device and play your favorite songs together.
The KMM-BT328 is also iAP2 compatible, so you always have access to your favorite channels.
Kenwood KMM BT328 is the best single DIN Bluetooth single DIN head unit that provides you with all the connectivity and entertainment options you need to enjoy your favorite stream music.
It has a simple interface that makes it perfect for beginners!
5. Pioneer AVH-3500NEX
The Pioneer AVH-3500nex is a single DIN stereo system with a motorized 7-inch clear resistive display. The motorized display works well and is very durable.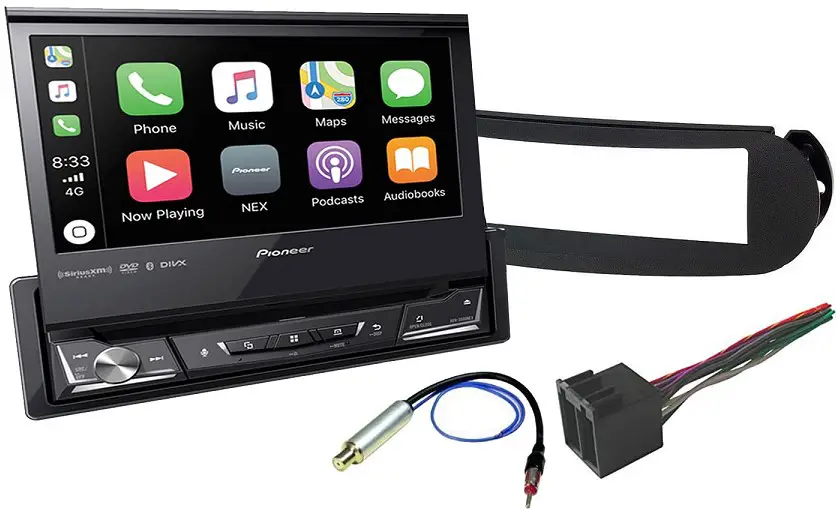 The display itself is beautiful to look at (with excellent colors and contrast) and responds well to your commands and gestures. If you've ever used a smartphone, chances are you can use this Pioneer product.
Of course, you won't just use this screen to select options. You can watch your favorite movies, TV shows, and other videos on the go!
When not in use, the top of the single DIN device slides out of a hidden compartment, giving it a clean, minimalist look without sacrificing screen size or performance.
Installing this wiring harness is almost incredibly easy. This is a great benefit for people who don't want to pay anyone to do it.
There are many cables attached to this stereo system. You can use the USB input on the back to connect music.
From the connectors, there is also built-in Bluetooth, a microphone on the steering wheel, and power output cables. There are three sets of speaker outputs for your front and rear speakers, as well as video outputs, so you can connect a headrest.
While most newer devices are easy to use, there is an issue with the volume control.
Because it's hidden behind the display, it's hard to find. There are also some exciting updates to be aware of right now.
Pioneer borrowed from Kenwood and allows you to resize and position your home screen widgets just like Kenwood.
How to choose a single DIN head unit
When comparing single DIN head units, there are several key features to look out for.
Power
One of these elements is the power output signal.
Most of the separate units I compared had the same performance level. If you combine your single DIN car stereos with your speakers, you want to make sure the average values are the same, or the closest possible.
If you work with your factory speakers, as soon as your stereo system is updated, you will find a little improvement in sound quality. However, as soon as you get some new car speakers, you will find a completely new audio experience.
Sources
You also want to make sure that any device you decide to buy is capable of using the input sources you prefer.
Do you still prefer the sound quality CD, not the MP3 quality? Would you like to combine a flash drive with a few gigs of music?
Not all main units accept all input sources. CD players are likely or essential in future car stereo models and in one of the units we have examined. Some parts have an SD card slot, while others do not.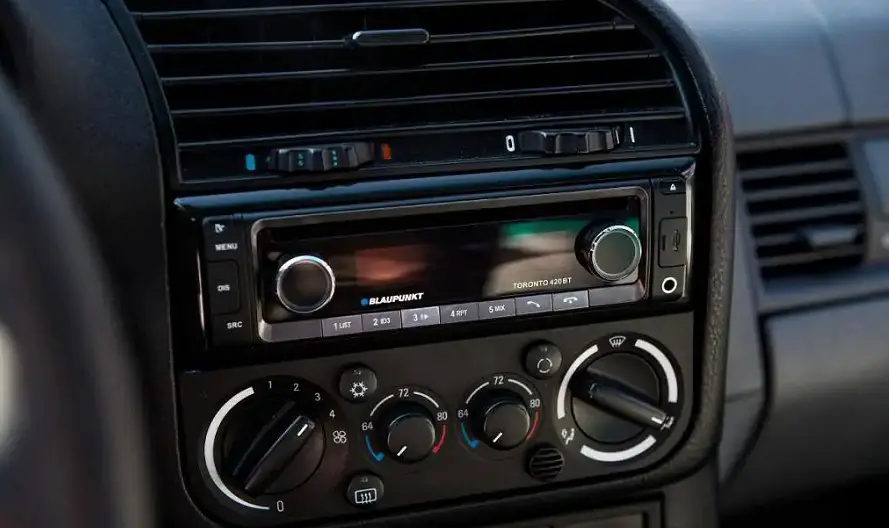 How to choose the best single DIN head unit?
The days of choosing a cassette player or FM radio have been going on for a long gone. We have reached the future, and in this age of technology, we have more options for music time: CDs, DVDs, and MP3s.
But with all these different playback options, there are a lot of questions: What is the easiest? What is the best sound quality? How can I play my smartphone songs? Fortunately, we are here to help you find out! To buy the next head block of DIN, read more for our step-by-step guide so that your melodies never miss a beat.
What is the DIN head block?
A single DIN head unit is a stereo system that fits into a single DIN socket. This type of head unit is commonly used in vehicles with single DIN chassis, but some older dual DIN units may also be compatible.
A double DIN head unit is two inches high and occupies dual DIN cavities side by side, while a single DIN head unit is one inch high and occupies only one single DIN cavity. Most factory-installed stereos are double-sized.
If your car dashboard has enough space for more than one DIN cleft (which appears to have two rectangles folded on each other), you can install any single din head unit in your car.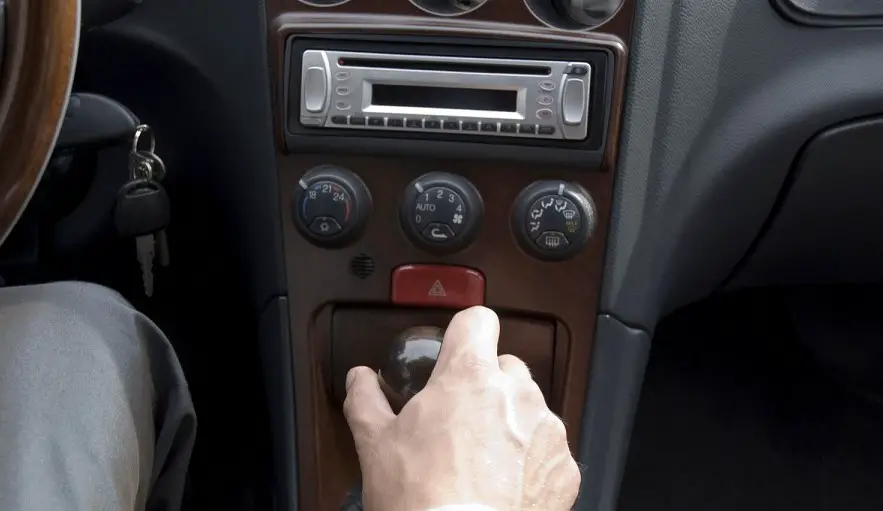 Choosing a car stereo
The single DIN car stereos system of the car consists of several different parts: the single DIN head unit block (sometimes called "deck"), amplifiers, and speakers. While each episode plays an important role in your music experience, we will only focus on one thing: the head unit.
One single DIN head unit of the block has passed a long path over the years. Currently, almost any modern technology can be placed in these small boxes – CD players, DVD players, Bluetooth connectivity capabilities, USB sections, Pandora integration – almost everything can come to exist!
Some even have two-way front panels, so you can turn them back and still install them on their line. Given that about 7 "X 1" X 5 "is usually measured, this is quite impressive.
One of the most important considerations when buying a single DIN head unit is whether it has a touch screen. This will facilitate the use of some of your stereo system functions. You don't need to guess you should press on the page – just spend and click, and voilà! It's very simple.
In addition to touchscreens, some single DIN head unit also has dual displays. These models come with two screens: one behind the main single DIN head unit, facing you, and the other built into the bottom panel which rises for easy viewing.
Single-DIN stereos are typically more expensive than similar single-screen devices, but they're worth it if you want an easier way to see what is being reproduced.
The next interesting thing is whether your single DIN head unit has a CD player and if so, how many compact discs can have. Some models can hold up to six compact discs at the same time, while others are just limited. However, not all CD units can load additional disks, if you are looking for it, be sure to check before buying!
Other music sources may include:
FM/AM radio tuners
Auxiliary inputs (which allow you to use the standard headphone jack)
Bluetooth connectivity (so you can without having to connect to your favorite song in listening to your phone)
USB ports (for internal flash storage, search for iPod and digital audiophiles), music applications (for iPhone and Android devices)
Satellite radio and more.
The last thing to consider is how your stereo system can go. Some stereo-car systems are equipped with amplifiers made in manufacturing that give you more max power output than other similar models. If you would like to start the volume while traveling, make sure on when you drive down the highway with your windows down, you have a model with more sound!
Single DIN head units are one of the most popular aftermarket modifications among car enthusiasts worldwide and for good reason – they look stylish, sound great, and showcase the best in any car's entertainment system. Now that you know what to look for when shopping, there is no stopping from your music trip to this new world!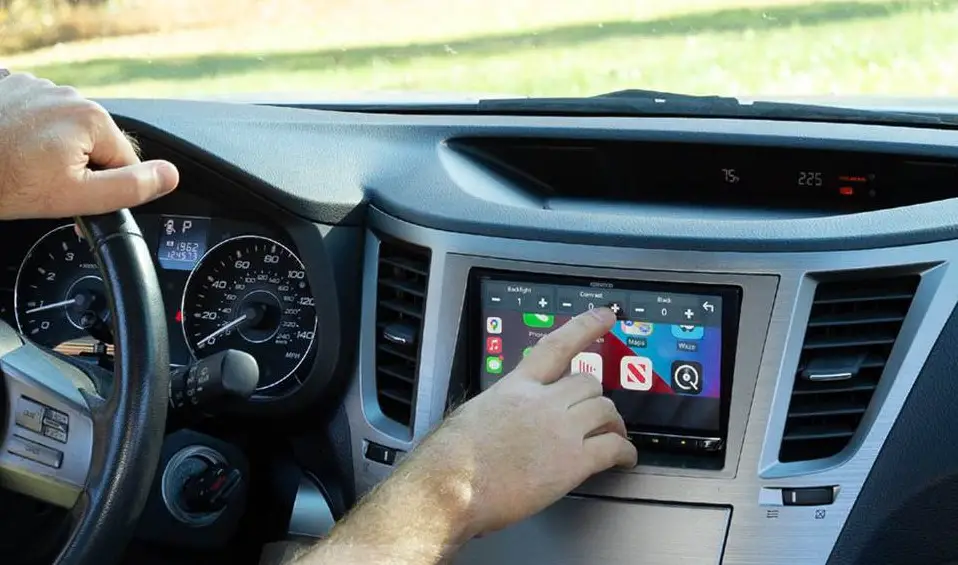 What to look for in a single DIN head unit before buying
While we have told you about the best audio systems, you may still be asking which is the best single-DIN car stereo. Well, if you want to recognize them at a glance, look for the factors mentioned below.
If your stereo has these features, get it for the most incredible experience!
Playback options
Playback options are the methods used by your car stereos to play music. And the more options your audio system offers, the better your experience will be!
A complete single DIN car stereo will offer you all the advanced playback methods. From AUX inputs to Bluetooth, you'll have everything you need to play your favorite songs.
Here is a list of playback features that can make your car journeys more enjoyable than ever!
Playback options
Playback options are the methods your stereo system uses to play music. And the more options to provide your audio system, the better your experience!
Here is a list of broadcast functions that make your car even more pleasant than ever before!
CD/DVD player
As for music apps, some users still have a collection of CDs. So, if you want to play music from your CDs and videos from your DVDs, you should definitely find this option.
Auxiliary input
If you have external devices that do not maintain wireless remote communications, you need AUX output. So, you can listen to music from any device, even if you have trouble connecting Bluetooth!
Bluetooth connection
Nowadays, there is no stereo system without built-in Bluetooth! Thanks to this option, you can effortlessly make hands-free calls and control the entire interface. Therefore, this function is required!
USB connection
The USB ports allow you to connect your devices with a USB cable. So if your Bluetooth isn't working, just unplug the cable and play something from your Android or iOS devices. In addition, if you use this method, your smartphones will be constantly charged. And that is something breathtaking, I have to say!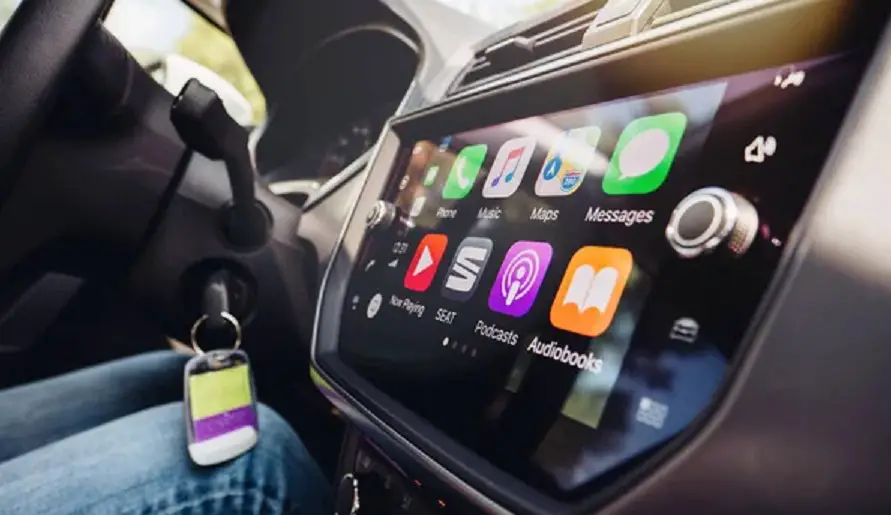 Music apps
We all have music app subscriptions now, so some manufacturers add app compatibility to their products. So if you use apps like Pandora or Spotify, make sure your audio system supports them!
Radio
Some say the radio is old school, but we say it's gold! Nothing is more relaxing than listening to interesting podcasts or getting some news about the weather during the trip. And if you spend money, why don't you try to make the most of your profits?
Sound quality
No matter how expensive your car stereo is, if it doesn't sound good, what's the point of buying it?
So, always look for a single DIN head unit that is guaranteed to deliver crystal clear sound quality. In this article, you will find some great stereos that deliver better and louder sounds without annoyance.
Smartphone compatibility
Some single DIN stereo systems cannot connect to your smartphone. In this case, you can't play from your iOS or Android device, and you don't want it!
So make sure your single DIN car stereo is compatible with different smartphones. This allows you to have fun on a long trip!
Connector
You should always choose a DIN model with a simple interface. This is an empirical law! If the procedure of use is confusing and complicated, you will be annoyed every time you try to play Coldplay!
If the operating system is a list, you can't use it while driving. Therefore, moving to a comfortable interface is the smartest idea.
Video Input
The video card is not mandatory performance, but they are safer. If you want to install the reverse camera on your car to see your back better, you need this performance in your stereo system.
If you have a solution to training or have trouble in the parking lot, this option will change the rules of the game!
Rating capacity
Suppose you don't want to buy an amplifier for your car stereo, but you want to improve the sound quality. In this case, the nominal power must be taken into account.
To understand this, you need to look at the wattage per channel of your stereo! If you have more watts per channel, you'll get a louder sound without an amplifier.
Plugin
Your stereo system must be open to expansion. This means that your stereo system should be able to add a subwoofer, reverse camera, or other external components. So you can make your single DIN car radio more powerful at any time.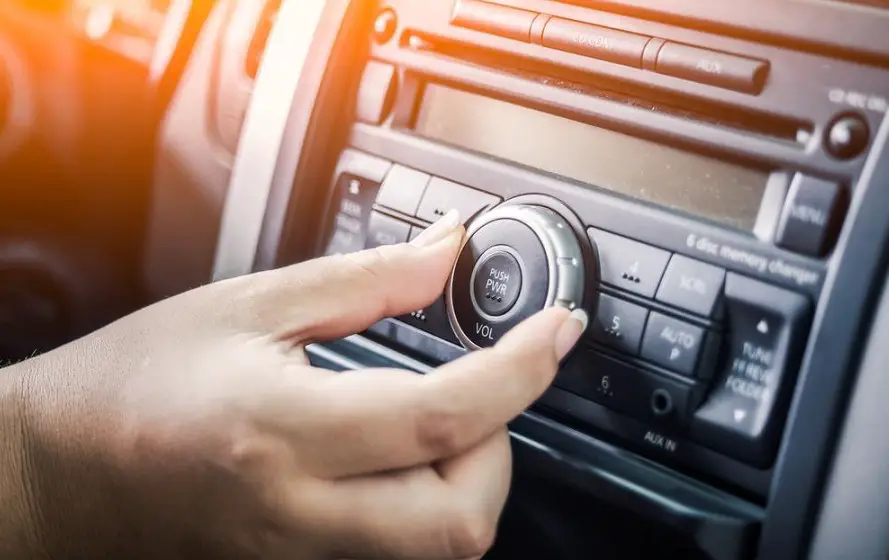 10 Advantages of a head unit in your car stereos
Do you have a single DIN radio in your car? If not, you're missing out on some great benefits. Here are just a few of them:
1. Perfect integration with your car interior
You will find that many cars (especially older models) come with a head unit with a single DIN socket on the front panel, usually located right in the middle of the front panel. Most vehicles are designed to fit perfectly with this head unit and integrate best with any vehicle.
The materials used for this type of head unit go well with those commonly used in a traditional car, such as plastic or wood.
Nowadays, however, some car manufacturers are starting to experiment with different head units – metal-coated head units in particular look pretty cool when combined with other metals on the dashboard, such as chrome parts and sheet steel.
2. Easy replacement
This might not be what you want unless you're a hobbyist, but single DIN head units are very easy to replace. If your current one breaks, it's quicker and cheaper to buy another one than it is to fix or fix it.
3. No loss of function
This has to be the biggest advantage you have with a replacement head unit over a brand-new car – you don't lose any of the great features you paid for! Plenty of cars these days come loaded with nifty tech, including navigation features and even Bluetooth streaming, all powered by a single master in-dash unit.
Replacing this model with a non-original model will give you all these features back without having to pay extra for anything beyond what you bought your car for.
4. No need to update
With technology changing so rapidly these days, you may feel the need to swap out your head unit from time to time so that you can get the latest features or gadgets that are available in it. There is no need to go with a single DIN head unit replacement as it gives you everything you want and can even offer more than a half-price aftermarket head unit!
And if it breaks, buy another instead of fixing this one. This is something you don't need to worry about when replacing a single DIN main unit.
5. It doesn't block legroom
Single DIN head units take up much less space than double DIN head units, making them ideal for small cars or cars with smaller dashboards. However, they still look good, so you don't have to worry about losing the aesthetic.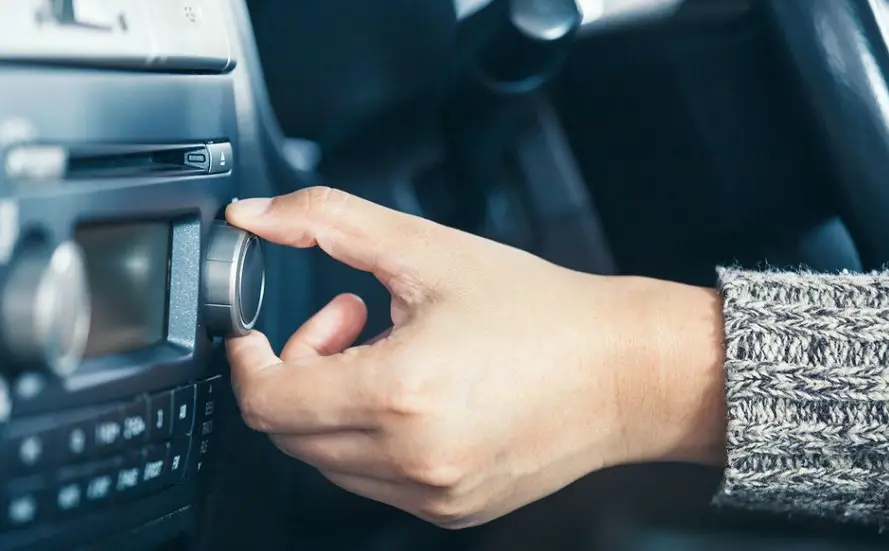 6. Looks OK
Given how much the world has shifted to the iPhone (or just about any smartphone), it's perhaps incomprehensible why automakers are still sticking with single DIN head units rather than modernizing to dual DIN head units, which better suit these elegant devices.
One reason could be that most people like the classic look of a single DIN head unit and want their cars to look normal (classic) as well.
7. It can be easily installed by yourself
Since single DIN head units don't take up much space and are easy to swap out, what can go wrong if you try to install them yourself?
With an aftermarket main unit, it's always best to seek the help of someone experienced in the field, so they can walk you through the process, but as long as you know how to use tools, etc. (and enough about the wiring), then it should be easy.
The tricky part is the first step, which is removing the old head unit – after that, it all becomes very easy as all you have to do is plug and play!
8. Looks good on other double DIN cars
Some people like having cars that match the brand. By two-DIN radio tape recorders are meant built-in – on the factory dashboards, you will not see non-original, for that specific car model!
If your goal is to have a car with a factory-like dashboard, purchasing an aftermarket best single DIN head unit will help, as it looks identical to what you would find if they were put into the production line.
However, you can always ask someone who has already done this if you're not sure how it works – there's no point in trying something if there's even the slightest chance it could damage your precious device!
9. No need for installation kits
This doesn't apply to everyone, as some aftermarket head units come with installation kits and some don't, but you'll still save big by not having to pay for it when you buy an aftermarket model.
Installation kits can be expensive, especially when you're just starting out – the last thing you want to do is spend more money on something that should have helped you cut costs!
10. Lighter and thinner
Since single DIN main units only have one row of controls and buttons compared to dual DIN models, there is no need for a front panel where everything is hidden! This makes them lighter and thinner, which is ideal if your car is short on dashboard space and doesn't have one.
Single DIN head units are a much better choice if you're looking to replace an existing one, but don't think these are the only type of aftermarket models!
There's no way you can beat the double DIN models for features and functionality, but if that one set of controls is what you're after, then they're definitely worth a look.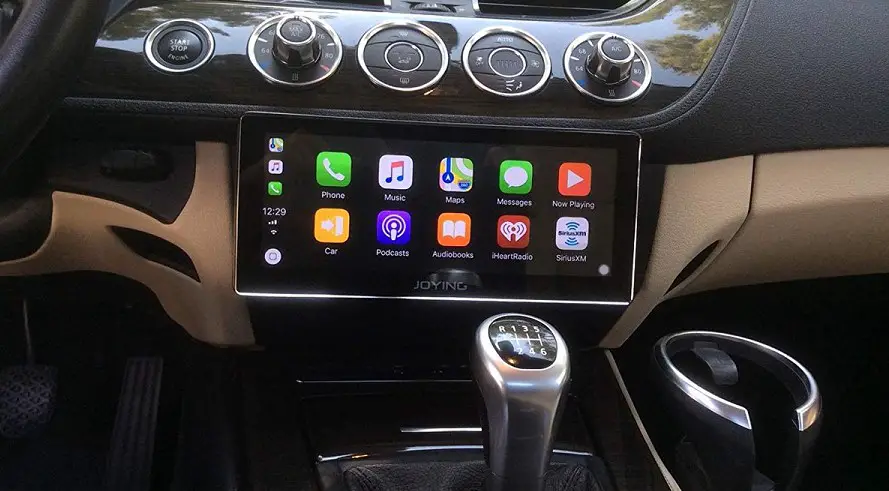 How to wire an amp from a single DIN head unit using RCA cables?
When it comes to car audio, there's never too much power. But when building a system piece by piece, buying a subwoofer amplifier for your subwoofers and speakers without any components already in place can get expensive. Luckily, there's a workaround to this problem that just requires an old head unit and a couple of RCA cables.
The first thing to do is to disconnect the battery negative terminal.
It also doesn't hurt to unplug the positive cable.
Then take the single DIN main unit out of your car, but first remove all the plastic panels.
Once that's done, locate the amp inside the stereo cabinet. On my particular Pioneer deck, the green amplifier board was connected to the bottom of my main unit.
Once you've found your amp, take a picture and tag it the first time you take apart a car stereo. This way you can remember exactly how everything is going back.
After disassembling the amplifier, unscrew all the screws and disconnect all the wires from it. Be sure to save as much wiring as possible, so you don't have to buy extra parts like speaker wire or power cords for amplifiers.
Now connect one end of the RCA cable (red and white plugs) to each channel of your amplifier: front left/right, rear left/right, and subwoofer if applicable. If your deck doesn't have a subwoofer, you'll need to buy Y-RCA adapters. Then connect the free end of each RCA cable to the matching colored connector on the new subwoofer amplifier.
Now take another set of RCA cables and run them from the subwoofer on the deck to one of the subwoofers. You can use regular speaker wire if you don't have extra RCA cables. Simply connect the red plug to the positive pole and the white plug to the negative pole. After all your components are connected, place the head unit back in the car and turn it on.
Play the audio source and adjust the volume for each channel as desired. This method may not be as efficient as a traditional amp setup, but it should work well enough to give you a decent amount of bass and power.
If your new subwoofer amplifier does not sound to your requirements, try turning its gain (input sensitivity) knob down until the sound is just right. This is better than turning up the deck volume since your deck will distort before the subwoofer amp.
If you plan to use a speaker amp and subwoofer, connect them at the end, not separately first. If you connect them one at a time, and then both, you can't adjust the deck's speaker output independently of the subwoofer.
Now that everything is connected and sounding good, get out there and enjoy the deep bass! People might be looking at your patio while you're at a stoplight asking questions, but who cares? You still won't hear them once you turn up the volume.
I hope that helps them if you have any questions or problems connecting your amplifier to your din head unit using RCA.
How to install single DIN car stereo
To install your new car radio, you need to have the necessary tools on hand. These tools consist of a decorative plate and a bracket to connect the radio to the dashboard. In addition to a roll of electrical tape, you will need a wire adapter, screwdriver, wire stripper, and cutter. Have your service manual handy if needed.
The first thing you need to do is disconnect the ground cable from your battery.
Use your owner's manual to identify the parts of the dashboard that need to be removed before getting to the stereo. This step requires a screen cleaner.
Most mainstream stereo systems are bolted together. Others require special tools and more time to successfully remove them. The difficulty of this operation depends on the make and model of your car.
Use the harness adapter to disconnect the harness from the back of the radio.
Plug your new harness adapter into the dashboard.
Then you need to connect this adapter to the main unit. This is done by matching the color and size of the wires on the connector with the wires on the adapter.
Strip two inches of insulation from all wires and twist the matching wires together.
Wrap the connected wires with glue.
Plug the adapter into the back of the stereo.
This step involves connecting the new radio to the dashboard. Depending on your car, you may need a double DIN.
Reconnect the ground wire and start the engine to test your new device.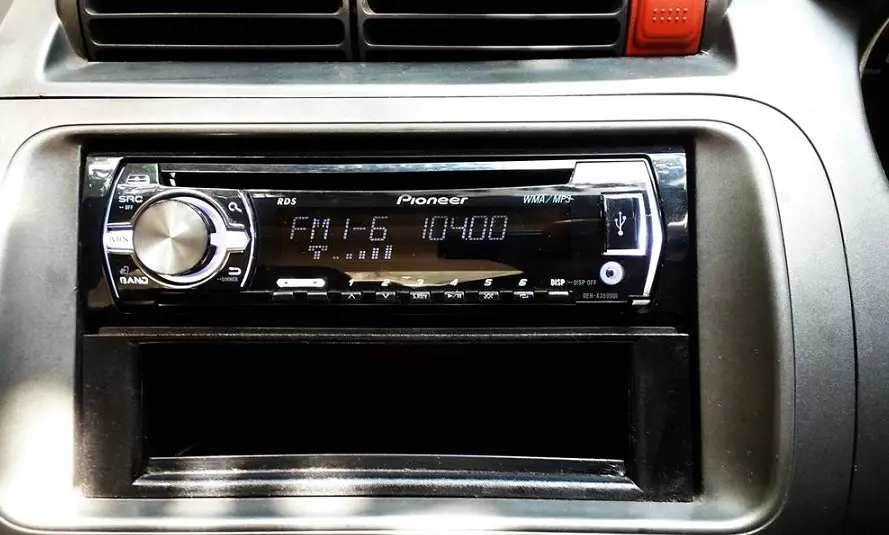 FAQ
What is a single DIN head unit?
The best single DIN head unit is a car audio system that fits in the dashboard and features an amplifier, speakers, and a touchscreen display. Alpine introduced the first single-DIN (double DIN inline) head units for use in Europe in 1997.
These compact units had two entrances; one for CDs or cassettes and one for AM/FM radio presets. As with most things automotive these days, there are numerous makes and models of all different brands on the market now – some more expensive than others!
However, one thing they all seem to have in common is Bluetooth capability, which allows you to wirelessly stream your music from your phone to this digital device over Wi-Fi or a 3G internet connection.
Which is better single DIN or double DIN?
In terms of sound system quality, there is almost no difference between 1 and 2-DIN head units. The real difference between the two receivers is the size of the display and the features that can be added due to the size of a stereo.
The double DIN head unit is larger than the single DIN head unit, with a 7″ x 4″ frame, making it twice as tall. It offers many more functions and makes the double DIN head unit compatible with a touch screen, camera, integration, phone apps, and more.
What is the car audio system on the market?
Pioneer is known for the exceptional quality of all of its double DIN models. But again, the Kenwood is better than the Pioneer in this category in the sense that it also offers a better range of models at a lower price point.
What is the best single DIN radio on the market?
The best single DIN stereo on the market from our Top 5 is the Kenwood KDC-BT778HD.
Are all single DIN radios the same?
No, not all single-DIN radios are the same. They come in all shapes and sizes, so it's important that you get one that fits your car. The best way to do this is to measure your current head unit before going to the store to buy a new one.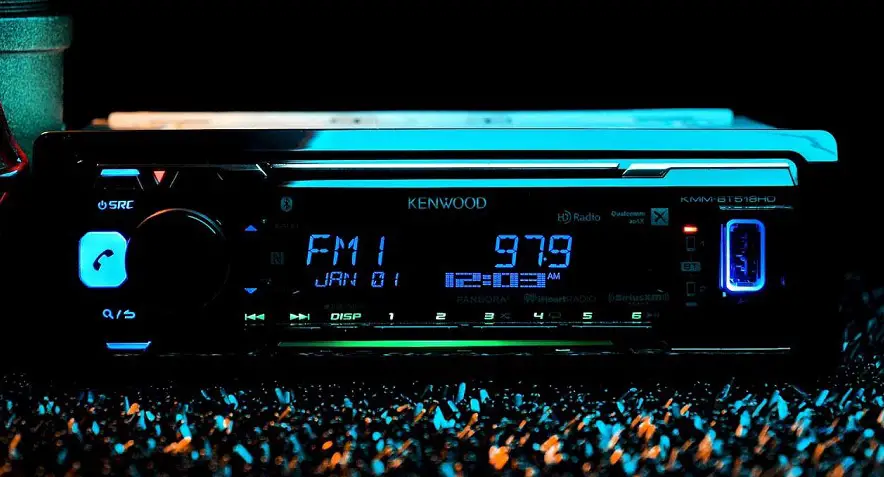 Which car radio brand is the best?
Pioneer is a good brand for every of your car's audio systems. While Pioneer's use of cutting-edge video and connectivity technologies keeps Pioneer at the forefront of in-car audio and consumer electronics, its commitment to quality sound reproduction remains its hallmark.
Who makes the best single DIN head units?
The Pioneer is definitely the most economical choice of all the head units presented here. This is a budget radio with multiple features that make it flexible for multiple types of users.
Honestly, I can replace the device with another brand, not because I have anything negative about this brand or this radio, but because I would like additional features that this device does not have.
Can any car radio go in any car?
Universal car stereos will fit any car, as long as you understand the difference between single and dual DIN car stereos and use the correct bezel. Once you've made sure you've installed the correct bezel, you can seamlessly install your universal car stereo into almost any car interior.
Are there any aftermarket single DIN head units with separate touchscreens?
There are several single DIN head units with separate touch screens on the market, but they can be quite expensive. A good option is to look for a used or refurbished unit. Alternatively, some people have successfully modified a car radio to fit a single DIN slot by using a universal bezel and cutting off part of the metal casing.
If you're looking for an affordable option, there are some decent dual-speaker touchscreen main units that cost around $100-$200. Just do your research before you buy to make sure the device has the features you need.
Do single DIN stereos come with GPS?
If you're looking for the best single DIN GPS head unit, you're bound to come back with a handful of disappointments! Currently, no single DIN unit has GPS. However, if you can connect your smart devices to the unit, you can play the direction through the sound system.
Conclusion
At this point, it's safe to say that even after reviewing each of these single DIN stereo head units and considering all of their features, one thing stands out.
The Kenwood KDC-BT778HD is truly in a class of its own. Although it's technically a DIN head unit like the others we've tested, the folding touchscreen puts it in a class of its own.
I hope you enjoyed this blog about the best single DIN units.