Learning how to reset a Kenwood radio is obligatory…
Every now and then comes a time when some device simply just crashes on its own. That also happens with Kenwood car radios too of course the only thing to do here is to reset it.
Of course, you might also have to reset your Kenwood car stereo in other situations too. Sometimes, some buttons or functions on your display might not work the way they are supposed to, and the whole radio completely freezes. That is when the factory reset is a necessity.
So, if you want to learn how to reset your Kenwood car radio, keep reading this step-by-step guide to get all of the information.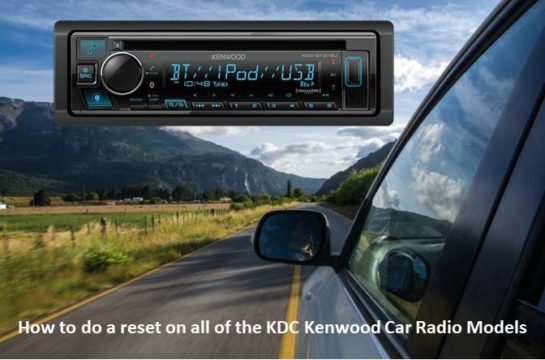 Steps to successfully resetting your KDC Kenwood car radio models.
Before we start with the actual steps, we have to say that this process does not, and it cannot be applied to all of the Kenwood car radio models. Have in mind that in this article, we will be explaining to you how to do a reset on all of the KDC Kenwood car radio models… If you have a touchscreen Kenwood car radio, you will have to use some other technique and a completely different process in order to do so.
So, let's begin with the steps.
Step-1: The first thing that you will need to do is to obviously turn on your car radio. It must be powered during the reset process so that the actual process can work. So, basically, you will need to put your key into your car and turn it once until the light on your Kenwood car radio start to shine. That way, you will know that the radio has a power source.
Step-2: Now, the next thing that you will need to do is to examine your Kenwood car radio. You will be needing to look for an ejector button. After you have found that button, you will need to press it so that the faceplate can be carefully taken off of your stereo. If you cannot find this ejector button, look for it in the bottom left corner of your Kenwood car radio.
Step-3: And after you have safely taken the faceplate off of your radio, you will need to look for another button on it. Now, you will be looking for a super small reset button. This reset button will be located in different parts of the radio, depending on which model of Kenwood car radio you own. But, as soon as you find it, grab some kind of a pointy tool (a pen for example) and use that object to press the reset button.
Have in mind that you will have to hold that button for at least five seconds. After that, the screen will probably turn white, or completely black, and you will know that the reset has been done successfully.
After the reset process has been finished, you can power up your radio again, and continue to use it normally.
If by chance, your radio is still not working the way it is supposed to, you can always repeat the reset process once again. And, if your radio is still not working properly after two tries of resetting it, you should probably consider taking it to the professionals so that they can see what is the issue, and fix it accordingly.
And, if you just bought your Kenwood car radio, and it is completely new, you should maybe check and see if you have connected it to your car properly. This is a common issue among the users, and a lot of users end up finding out that they have not connected it well, and that that is the reason why their radio is not functioning the way it is supposed to.
If that is the case with you, try connecting your radio again, by carefully following your manual instructions.
Why is it important for you to learn how to reset your Kenwood car radio
Learning how to do this reset process is an easy way to solve many of the issues that you may experience while using the Kenwood car radio. We believe that knowing how to perform a reset on a Kenwood car radio is super important because there will come a day when your Kenwood radio might not work as well as it is supposed to.
An easy way to fix all of the issues with it is by trying to reset it. Resetting can fix all kinds of problems, even if your Kenwood car radio's buttons stop working, or if it starts buffering, or even if it just freezes completely. The reset function will truly help you with all of that.
Besides, why would you want to take your car to the professionals to fix your issue anytime your Kenwood car radio stops working? This is such an unnecessary and super expensive thing. It is way better to know how to perform it on your own in case of need.
And, of course, if your radio does not work even after you have tried everything on your part, then you can take it to the professional person that will find the issue and fix it accordingly. because you clearly cannot fix the problem on your own.
We think that this is a simple process that anyone can do, just don't do this process while you are driving, as it can cause many accidents, and more importantly, it is not safe at all.
Conclusion
As you can see for yourself, this simple process only has three easy steps. The process can last a couple of minutes and not more. Just remember to put back the faceplate of the radio once you are done with resetting it. Also, make sure that the faceplate is securely in its place, and that it fits well.
We hope that you were able to follow along with our steps and that they were not at all hard for you. Also, we do hope that you learned how to reset your Kenwood car radio and that you will know how to do it in the case of need.
FAQs
Q. I cannot find the reset button on my Kenwood car radio, what do I do?
Try to look thoroughly through your Kenwood radio, your reset button must be there.
Q. My reset button will not work, what can I do?
If you have tried holding the reset button for a few seconds with a sharp object, and the reset is not happening, you can try to turn off your car first. After turning it off, turn the key on the back again to give the power contact to the radio. If the lights on your radio's buttons have to light up, that means that your radio has power and it is ready to be turned on.
Follow our steps again, to try and do the reset process. If your reset button still does not work, there is a chance that something is wrong with your radio. Seek help from the professionals if that is the case.